Detour:




Detour openend in 1995 with a strong mission to bring live tradional and experimental jazz to the East Village in a non-pretentious and relaxed atmosphere. After six years in business Detour has earned the reputation of being one of the finest and well-liked jazz venues in New York City.As the only true cover-free jazz club, Detour offers musicians and the audience alike an opportunity to improvise and grow — to feel at liberty to take chanses they might not consider taking at other venues.

Guide Review -

Detour is a cozy East Village bar to hang out, drink and listen to free live jazz nightly.

Pros: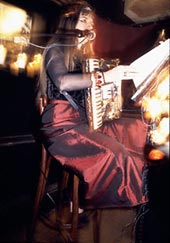 Good date spot.
Free, live music.
Comfortable atmosphere.
Cons:
Small space can feel crowded.
2 drink minimum.
Description
Detour is located at 349 E. 13th Street
Detour Cross Streets: 1st Avenue
Closest Subway to Detour: L to 1st Ave; N, R, 4, 5, 6, to Union Square
No cover charge; 2 drink minimum
Detour Phone: (212) 533-6212
$3 Happy Hour runs from 4pm to 7pm 7 days a week.
Open from 4 p.m. to 2 a.m. daily (until 4 a.m. Fri. & Sat.)
Live Music from 9 p.m. to 12:30 Sun. - Thurs.; 10 p.m. to 1:30 a.m. Fri. & Sat.
21 and over for admittance.
Detour is a comfortable and casual jazz bar in the East Village. The small but cozy space is dimly lit, with tile floors and 50s movie posters covering the walls. Both live and pre-recorded jazz music represents a range of styles from the traditional to the eclectic. There is no cover (always a plus) but they do have a two-drink minimum, which is quite reasonable, considering most drinks are about $5. The beer selection is above average, including hard to find brews like Rhinegold. Folks are friendly, and musicians like to mix and mingle as they make their rounds with the metal tip jar.