Lincoln Center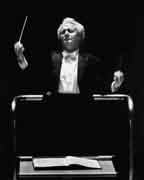 Where in the world can you find:
An opera that spills 3,000 gallons of water on the singers
The home of Emmy Award winning television programs
100,000 of your neighbors kicking their heels to Cuban son, swing, Irish jigs, and disco
"Petrushka" performed by puppets
A free outdoor concert by jazz legend Sonny Rollins
A show with dazzling high wire artists and upside-down musicians
A Brazilian Festival, Mexican music, a Taiwanese Tea Ceremony, Korean drumming, African dance, and Canadian fiddling
An unparalleled selection of classical music performed by the world's greatest musicians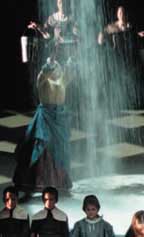 Only one place: Lincoln Center for the Performing Arts
This is just a taste of the amazing range of classical, contemporary, and innovative performing arts events offered by Lincoln Center for the Performing Arts, Inc. during our 2004/2005 season. "Lincoln Center presents" more than 400 live performances each year through six distinguished performance programs which bring music, opera, theater, dance, puppetry, circus, and cultural expression from around the globe to Lincoln Center stages. Lincoln Center is a national leader in television programming, family programs, and service for people with disabilities. We are proud to share the Lincoln Center complex with some of America's most famous artistic companies and organizations. There's something for everyone at Lincoln Center, and we invite you to learn more about Lincoln Center for the Performing Arts, Inc. on this web site.