Brooklyn Academy of Muic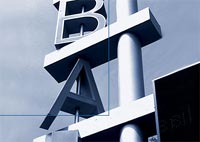 Dating from its first performance in 1861, BAM has grown into a thriving urban arts center that brings international performing arts and film to Brooklyn. The first BAM facility at 176-194 Montague Street in Brooklyn Heights was originally conceived by the Philharmonic Society of Brooklyn as a home for its concerts. It housed a large theater seating 2,200, a smaller concert hall, dressing and chorus rooms, and a vast "baronial" kitchen. BAM presented both amateur and professional music and theater productions. Performers included Ellen Terry, Edwin Booth, Tomas Salvini, and Fritz Kreisler.

After the building burned to the ground on the morning of November 30, 1903, The New York Times eulogized its achievements: "In short, there has hardly been a great public movement of national import but the old Academy has been at one time or another its principal focus." Ironically, the value of the Montague Street site was such that BAM's stock price actually went up on the day of the fire. Plans were quickly made to rebuild at the edge of Brooklyn's business district in the fashionable neighborhood of Fort Greene.

The cornerstone was laid at 30 Lafayette Avenue in 1906 and a series of opening events were held in the fall of 1908 culminating with a grand gala evening featuring Geraldine Farrar and Enrico Caruso in a Metropolitan Opera production of Gounod's Faust. The Met would continue to present seasons in Brooklyn through 1921. It was during one of the engagements of the final Met season at BAM that Caruso, while performing in L'Elisir d'Amore , suffered a throat hemorrhage and coughed blood into several handkerchiefs before quitting the stage. Two weeks later, he gave the last performance of his career at the Met.

After World War II, Brooklyn shared the growing problems of other urban centers throughout America, and BAM's audience and support base declined. Language classes and martial arts instruction were booked into performance spaces. A school for boys held classes in the partitioned grand ballroom. By the time Harvey Lichtenstein was appointed executive director in 1967, the programs and facilities needed rethinking. During the 32 years that Lichtenstein was BAM's leader, BAM experienced a renaissance, and is now recognized internationally as a preeminent, progressive cultural center. Its facilities feature the Howard Gilman Opera House (2109 seats) and the Harvey Lichtenstein Theater (874 seats), named in Lichtenstein's honor in 1999.

BAM's current programming consists of the Next Wave Festival each fall (which celebrated its 20th anniversary in 2002); a spring season of international opera, theater, and dance; a comprehensive Education & Humanities program, and a variety of community programs. Recent additions include BAMcafé, a restaurant and live music venue, opened in 1997 in the third floor Lepercq Space, and BAM Rose Cinemas, a four-screen theater which opened in 1998. One screen is devoted to BAMcinématek, offering daily screenings of repertory classics and special festivals, with frequent guest speakers. The Shakespeare & Co. BAMshop features books, recordings, videos, and gift items geared to BAM's audiences.

In July 1999, Karen Brooks Hopkins became BAM's president, and Joseph V. Melillo, executive producer. Non-profit organizations affiliated with BAM include the Brooklyn Philharmonic, BAM's resident orchestra directed by Robert Spano which produces an annual season of concerts; and the BAM Local Development Corporation founded by Lichtenstein in 1998 to help create a mixed-use cultural district in Fort Greene.